Town Historian
Adrienne Kirby
Email
Hours: Available by appointment
Phone: (585) 483-0771
An excellent overview of the history of the Town of Gaines may be found in "Historic Gaines, 1809-1984" by Delia Robinson. Featuring numerous photographs, each community in the town has its own chapter, highlighting major events and significant people. It was originally published for the 175th anniversary of the town, and may be borrowed from the Nioga Library System.
1875 School Districts Map, Courtesy of the Cobblestone Society.
My most sincere gratitude is extended to Donna Burdick, historian for the Town of Smithfield, and Melissa Irelan, historian for the Town of Clarendon, for their help in research.
---
Local history in Orleans County tends to be….local. Being rural, it's not that we are cut off from larger currents of history, but our connections tend to be more indirect. This is certainly true in the political sphere.
On the precipice of Civil War, the election of 1860 was tense. Abraham Lincoln is often perceived as a champion of abolition, which is inaccurate. In reality, abolitionists did not favor Lincoln as a candidate because they believed he made too many concessions to proslavery advocates. Instead of voting for the "lesser of two evils," a few men in Gaines and elsewhere in Orleans County supported the Liberty Party, which held an uncompromising abolitionist stance among other platforms outside the mainstream, such as the prohibition of alcohol.
Robert J. Anderson (1787-1873), Gaines' second supervisor, was a fervent abolitionist, as evidenced by the fact he was a constituent member of the Free Congregationalist Church in Gaines, and by the high probability he ran for Lieutenant Governor for the Liberty Party in 1848. In late October 1860, Robert received a letter originating from Peterboro, NY. The letter, written by Charles A. Hammond, chair of the financial committee of the Liberty Party, stated that "24 Electoral and State tickets" were enclosed for him to distribute to "hands that will deposit them in the ballot box." The letter mentions that tickets were also sent to George Salisbury of Clarendon.
George S. Salisbury (1803-1882) had the honor of having the first recorded marriage in the town book of Clarendon in 1830. He, his wife Amanda, and their eight children lived in a stone house which still stands on the east side of Fancher Rd. The Holley Standard reported in 1873 that a large number of Salisburys were members of the Good Templars, a temperance society – which is not too surprising, given his connection to the Liberty Party.
There are a number of things that have changed over the past one hundred and sixty years, and voting is one of them. In the 19th century, ballots were created by each political party and sent out to its members. In 1860, the major parties were Republicans and Democrats, but four other parties had presidential candidates as well, including the Liberty Party. State laws dictated how large the ballots could be and what sort of paper was to be used. Twenty-four "tickets," each listing all of the candidates the party had endorsed, were printed on a single sheet of paper. Each ticket was cut out, and that is what was placed in the ballot box.
The two main contenders for the presidential election of 1860 were, of course, Abraham Lincoln and Stephen Douglas. Charles Hammond added some revealing commentary in his post script: "Let us by all means, save for freedom all we can. How can Abolitionists vote for a Slave hunting candidate, like Abraham Lincoln?" This is most likely a reference to Lincoln's support of the Fugitive Slave Act of 1850, which many felt was a necessary compromise to preserve the Union.
However, members of the Liberty Party by this point were also known as Radical Abolitionists. They believed in the immediate emancipation, with no recompense to slaveholders. Founded in 1840, the abolition of slavery was their primary objective, but the prohibition of alcohol emerged as a second major goal. As the 1850's wore on, they were dismayed to see more pragmatic abolitionists shy away from absolute abolition and temperance ideals to support more nuanced approaches to these issues. As early as 1853, Charles Hammond was quoted in the New-York Daily Tribune that he "suspected the Liberty party had lost its savor, and was not worth maintaining."
Although the above reference does not indicate in exactly what way he felt the party had lost its way, one wonders if perhaps he perceived a de-emphasis of temperance ideals. Charles A. Hammond (1825-1912), both a minister and lawyer, was well-known in central New York as a vocal temperance advocate, as can be seen by numerous citations in various newspapers throughout the latter half of the 19th century. He also happened to be a friend and one-time neighbor of Gerrit Smith, a philanthropist based in Peterboro, NY, who was the Liberty Party's presidential candidate in 1860.
Those who supported the Liberty Party in 1860 were idealists in the extreme. Had they been willing to make concessions, they might have garnered more votes, but they had a clear view of the end goal and refused to deviate from it. Over a hundred years later, Republican presidential candidate Barry Goldwater said, "Extremism in the defense of liberty is no vice. And moderation in the pursuit of justice is no virtue."
I think Robert, George, Charles and Gerrit would have agreed.
Adrienne Kirby,
Town Historian


This work is licensed under a Creative Commons Attribution-ShareAlike 4.0 International License.
https://www.townofgaines.org/wp-content/uploads/2019/05/GainesLogo-300x225.png
0
0
histedit
https://www.townofgaines.org/wp-content/uploads/2019/05/GainesLogo-300x225.png
histedit
2021-06-21 20:59:18
2021-06-29 09:44:54
Ballots for a Divisive Election
– Emeline Colton, in a letter to her daughter, Oct. 29, 1863
---
It is somewhat unusual in local history to have first hand accounts of everyday life from 150 years ago. Folks generally wrote brief diary entries, oftentimes citing "fair weather" and little else. Any letters we have tend to have been written from someone outside the immediate vicinity and addressed to a local person. This past year, the town was gifted with a small pack of letters written by the family of Alpheus S. Colton to his teenage daughter Anna in 1863. They are a glimpse into a moment in time in the daily life of Gaines.
Alpheus Colton lived on Gaines Basin Rd., about half a mile south of Ridge Rd. Alpheus was born in Longmeadow, Massachusetts, but married Emeline Calkins here in Gaines in 1847. Shortly thereafter, he and one of the Hutchinsons in town were business partners for the Orleans Nursery. By the 1860's, Alpheus was the sole owner. While the nursery itself was just to the north of his home, there was an office in the village of Gaines. According to the 1865 census, the household consisted of Alpheus, Emeline his wife, her sister Eliza Calkins, and the Colton children – Anna (17), Laura (9), and Robbie (4). In the fall of 1863, Anna went on a prolonged visit to a distant cousin who was a jeweler in Newark, NJ. The pack of letters contain several written by her mother and father, and a charming one written in all capitals from Laura. This article focuses on a few lines in a letter written by Emeline dated October 29, 1863.
"There was a surprise visit to Mr. Wilder's last evening. Your Mother & Father went, had a very very pleasant time. All took Something. [S]ome potatoes, corn, flour, butter, eggs, pickles, meat…cake, sugar, tea, preserves, canned fruit…Servise [sic] will be held in our church next Sabbath…" Despite sounding fairly mundane, there is quite a bit of history to unpack in these few sentences.
The Mr. Wilder the Coltons visited was Rev. Moses Wilder, who was given the happy yet unenviable task of reuniting the Congregationalist Church and the staunchly abolitionist Free Congregationalist Church which had split from them sixteen years earlier. In their articles of faith, they explicitly stated "we will not fellowship as Christians" with those who did not fully share their uncompromising positions on slavery. The Free Congregationalists had purchased and renovated the old meeting house about a half mile west on Ridge Road in 1848. With the Emancipation Proclamation having gone into effect Jan. 1, 1863, there was no longer much reason to maintain separate congregations. Church records indicate Mr. Wilder had a yearly contract, beginning October 1, 1863. His compensation was to be paid semi-annually, plus use of the parsonage next to the Congregational church.
Lacking any specific documentation, one can suppose Rev. Wilder moved here with his family in early October, and had had some time to meet with both churches. Emmeline's long list of the food stuffs brought on a "surprise visit" sounds much like a house warming. She may have had reason to savor the event as "very, very pleasant." Five years earlier, Emeline was a member of the Free Congregationalist church, and had submitted a letter of dismissal, which was necessary for her to join another church – apparently, the original Congregationalist church in Gaines. Her emphasis on how much she enjoyed this event may indicate it had been some time since she had been able to socialize "as a Christian" with members of her old church.
While meeting minutes were brief, it appears that Rev. Wilder ministered to each church separately until early in 1864, when he suggested it was time to reorganize as a new congregation. Perhaps services were alternately held at each church for a few months, which might explain Emeline's comment about the upcoming Sabbath. Rev. Wilder did not live in Gaines long. By July of 1865, the church had decided it could not afford the $600 per year as stipulated in the contract. The minutes for the meeting in which this decision was made noted that the legal services of Arad Thomas, Esq., author of "The Pioneer History of Orleans County", were secured for $25. By August, plans were being made to sell the "West Church," the proceeds to be used to repair the church and parsonage, and to start charging pew rent to help pay for the minister. With a better handle on their finances, the next minister, Rev. M. H. Higley, had a contract for $800 per year.
Emeline Colton's letter gives us additional insight into the aftermath of a highly visible setback for the Congregationalist Church, the split in 1847. Though his tenure was short, Rev. Wilder did succeed in merging the two congregations into one. In the years that followed, the church grew and for decades exerted significant influence in the village of Gaines.
Adrienne Kirby,
Town Historian


This work is licensed under a Creative Commons Attribution-ShareAlike 4.0 International License.
https://www.townofgaines.org/wp-content/uploads/2019/05/GainesLogo-300x225.png
0
0
histedit
https://www.townofgaines.org/wp-content/uploads/2019/05/GainesLogo-300x225.png
histedit
2020-03-30 14:36:15
2020-03-30 16:52:59
"Things move on about as usual in Gaines."
Local historians are dependent upon a certain amount of luck. The stories we tell draw from a variety of sources. In Gaines, nearly all official town documents went up in flames in 1910. It was a tremendous stroke of bad luck; because of that, we have almost no town paperwork from the 19th century. On the other hand, the internet is a fantastic tool for local history; without having to travel, one can access all sorts of things like cemetery records, genealogies, scanned newspapers and books. Sometimes, the researcher stumbles upon nuggets of information that lead to additional questions.
The nugget that spurred this story was a Wikipedia article that mentioned Robert Anderson as a candidate for Lieutenant Governor of New York under the Liberty Party in 1848. Robert J. Anderson (1787-1873) happens to be an ancestor of my family, but he was also a well-known figure in Gaines in the early 19th century. The family lore that has been handed down is that the Andersons, who lived on Ridge Road, harbored fugitive slaves. I was curious to learn if our Robert Anderson ran for state office on a third party ticket. In 1848, the platform of the Liberty Party was primarily abolitionist, but they were on the fringes of the debate. More mainstream anti-slavery stances at the time focused on the political ramifications of abolishing slavery. For the Liberty Party, the issue was black and white; slavery was evil and needed to end.
I had no luck tracking down the origins of the Liberty Party candidate in the newspapers of the day. The Oneida Morning Herald reported that the Liberty League and National Reform party held a convention at Canastota, NY on Sept. 28, 1848. The article enumerated who the officers and speakers were, and what county each came from. In the following paragraph, the candidates for the national and state elections were listed, including Robert Anderson, without a single mention as to where they hailed from. In 1848, the Orleans Republican was completely consumed with national politics, barely mentioning state or local elections. The issue of the day was slavery, about whether new states should allow slavery, and if it should be a federal decision.
It turns out that Robert Anderson's belief in the abolitionist cause was more than just a family legend. He had been a member of the Congregational church in Gaines. By 1847, it appears the Congregational church, much like the rest of the nation, had many heated debates about the questions of slavery, resulting in a split. Robert withdrew his membership from the Congregational Church and became a constituent member of the First Free Congregational Church of Gaines that was created in December of that year. An unpublished history of the Gaines Congregational Church records two of twelve articles of faith put forth by the new church:
"Believing slavery a sin of blackest hue
Resolved that we will not fellowship as Christians with either the slave holder or his apologist or supporter.
Believing the making, handling and use of alcoholic liquors as a beverage to be a sin therefore
Resolved that we will not fellowship as Christians or support in office any who are engaged in this work of death."
It seems Robert was a man of high ideals. From 1839-1843, he turns up each year in the the annual meeting minutes for the church, often serving as chairman. He felt so strongly about abolition he left the church he had given his time to, and where he had most likely been a long time member. That must have been a difficult decision, not lightly made. Of course, we have no records of the Andersons harboring fugitive slaves, as illicit activities are generally undocumented. But if that household was willing to disregard the law in order to help runaway slaves, then the Liberty Party would have been quite appealing.
The platform of the Liberty Party in 1848 in effect declared that any law allowing slavery was null and void. They believed in the immediate emancipation of slaves without any recompense to slaveholders. As luck would have it, there is evidence that Robert Anderson was involved with the Liberty Party. Syracuse University has a number of documents related to the Liberty Party, and among them is a receipt of Robert Anderson of Gaines, NY having purchased an early subscription to the Liberty Party Paper in 1849, a month after its first issue.
The Liberty Party was largely based in Central New York, around Syracuse. Although he lived more than 100 miles away from the hub of New York State's abolitionist movement, Robert had the credentials to run for state office. He was an early settler, arriving in Gaines from Ira, VT in 1816. After taking a year to upgrade from a log cabin to a frame house, he quickly became involved in local politics at the town, county and state levels. He was appointed Justice for both the town and county between 1817 and 1824. He was elected the Town of Gaines Supervisor each year from 1818 to 1825, and served as the first Chairman of the Board of Supervisors for Orleans County. In 1822, he served a term in the New York State legislature.
In the election of 1848, the Liberty Party did not secure any positions at the national or state levels. The Liberty candidates at the state level garnered about .33% of the vote. While Orleans County voting records go back to the 1820's, the records for 1848 are missing. Luckily, the Orleans Republican published those results. Robert Anderson received about .8% of the vote in Orleans County. His strongest support was seen in the 11 votes in Gaines, followed by 8 in Barre, District Three, and 6 from Ridgeway, District One. It's possible the 42 votes from Orleans County do not represent his relations and friends; they might simply reveal a pocket of staunch abolitionists.
Of course, the name Robert Anderson is not particularly unique. There may have been dozens of Robert Andersons living in New York at this point in time. In fact, according to the 1850 census, there were about fifty of them. A quick survey of the candidates who ran for Lieutenant Governor between 1828 and 1848 shows that the youngest to run was 34 years old. Using this criteria, there were only ten Robert Andersons in New York who were old enough to run for Lieutenant Governor. Most candidates were in their 40's or 50's. Robert Anderson of Gaines was sixty-one.
Because the 1850 Census recorded information about individuals' occupations, ethnicity and country of origin, finding the Robert Anderson we are looking for becomes a matter of probability. It was probably not either of the two African American Robert Andersons, since they did not have the right to vote. In 1848, it definitely was not the Irishman. It was probably not the Scottish gardener, nor the day laborer in New York City. It is also unlikely to have been the German artist. It was probably not the Robert Anderson living in a boarding house in Rensselaer. The records for one Robert Anderson in New York Ward 6 are illegible. That leaves two distinct possibilities. In New York Ward 14, there was Robert Anderson, the English printer in his 50's, with a 24 year old son working beside him, and a house full of seven other children. Or the Liberty candidate for Lieutenant Governor was the Robert Anderson of Gaines, whom we know to have been an abolitionist with political experience.
In the Pioneer History of Orleans County, we find this written of Robert: "Judge Anderson was never ambitious to hold public offices, generally taking office only when it was offered him without his asking, and resigning the first proper opportunity." If what Arad Thomas said of Robert's character was true, then we today are more impressed with the prospect of his bid for state office than he would have been. All the evidence suggests that the Robert Anderson on the ballot lived in Gaines, but it is unfortunately, ultimately circumstantial. Perhaps someday in the future, a scrap of information that definitively proves Robert J. Anderson ran for lieutenant governor in 1848 will turn up out of the blue.
Wish me luck.
Adrienne Kirby,
Town Historian


This work is licensed under a Creative Commons Attribution-ShareAlike 4.0 International License.
https://www.townofgaines.org/wp-content/uploads/2019/05/GainesLogo-300x225.png
0
0
histedit
https://www.townofgaines.org/wp-content/uploads/2019/05/GainesLogo-300x225.png
histedit
2019-09-27 10:21:42
2019-11-19 13:41:49
Searching for Robert
This postcard from around 1910 is a little bit misleading. In it, Eagle Harbor appears to be a quiet, shady little hamlet. In fact, Eagle Harbor was a busy place at this point in time. This photo was probably taken from the canal bridge, and looks north on what is now called Eagle Harbor Waterport Rd. There are a number of businesses and community organizations that this postcard fails to show.
To the west, on Eagle Harbor-Knowlesville Rd., there was the post office, and general store owned by the Bennett Bros., which still stands next to the bridge right on the canal. Farther west, was the Methodist Episcopal Church. To the east, on a little lane next to the canal was a grocery run by the Walters Bros. That building was demolished in 1913 when the canal was widened. The trees shown here hide the schoolhouse on the east side of the road. South of the canal was the Wesleyan Methodist Church, which burned in 1918, and also the cooperage, which was quite a large building.
It's easy to imagine a warm spring day there — the voices of children walking home from the school for lunch, the sounds of hammering from the cooper shop, and the rattle of horse and wagon over the bridge. In 1910, Eagle Harbor was hardly quiet.
Adrienne Kirby,
Town Historian

This work is licensed under a Creative Commons Attribution-ShareAlike 4.0 International License.
https://www.townofgaines.org/wp-content/uploads/2019/05/GainesLogo-300x225.png
0
0
histedit
https://www.townofgaines.org/wp-content/uploads/2019/05/GainesLogo-300x225.png
histedit
2019-06-14 21:56:03
2019-06-14 21:58:14
Greetings from Eagle Harbor!
I am grateful to the assistance of John Long in sharing
his memories of Bill Densmore and the '44 fire.
---
A. Willard "Bill" Densmore (1890-1964) loved farming. Despite suffering the misfortune of two barn fires in less than twenty years, he rebuilt each time because he couldn't imagine doing anything else. Around 1929, during his tenure as Gaines Supervisor (1924-1931), his barn on Densmore Rd. burned to the foundation. So he built a new one on the old foundation. When that barn burned on Sept. 6, 1944, Densmore was in his early 50's. He built another barn anyway. In the end, it was a heart attack in 1959, not fire, that forced Bill Densmore to quit farming. As he watched the tools of his trade being auctioned, he remarked to a neighbor, "I never thought it would come to this."
According to the Orleans Republican, the total loss of the 1944 fire was estimated to be about $15,000, the equivalent of $214,000 in 2019. He lost a truck and its load of peaches, which must have been particularly discouraging. It had been a bad year for peaches, and Densmore was one of the few farmers in the area who had much of a crop. The newspaper stated that he also lost "several hundred bushels of wheat, which was to be sown soon." John Long clarifies this report, explaining that Densmore would have intended to sell most of it, keeping only a little for himself. A great deal of hay also went up in flames. Unlike the first fire, there were no animals to worry about. At this point in time, Densmore had all his livestock at another farm on Transit Road.
Rebuilding in 1944 was perhaps more challenging than before because World War II made resources scarce. Farmers in his situation couldn't always find enough new lumber, and sometimes had to look for used beams. Having a truck was crucial, because that was how farmers got their produce to the processors, and money in their pockets. Although production of consumer vehicles had stopped because of the war, Densmore applied to the county War Rationing Board and became the owner of the newest truck around. Mr. Long remembers it as a green GMC with a black painted grill, probably made for the military.
Bill Densmore's third barn has fared better than the previous two. It's a handsome white building that can still be seen on the east side of the road, sitting on the same foundation as the original. It stands as a quiet testament to one man's perseverance and love of farming.
Adrienne Kirby,
Town Historian

This work is licensed under a Creative Commons Attribution-ShareAlike 4.0 International License.
https://www.townofgaines.org/wp-content/uploads/2019/05/GainesLogo-300x225.png
0
0
histedit
https://www.townofgaines.org/wp-content/uploads/2019/05/GainesLogo-300x225.png
histedit
2019-03-06 15:56:06
2019-05-30 15:21:26
Adversity & Fortitude
This photo shows a view of Rt. 279 as seen from Ridge Road looking south. Judging from the leaves on the ground, it seems to have been taken about this time of year. The main road intersected the Ridge as it does now, but the photo shows a lesser-worn path leading east to the Ridge. The flowerbed in the resulting triangle looks as though it had experienced some colder temperatures.
The image reveals a period of transition; Gaines was not yet completely "modernized." In order to travel directly from the hamlet of Gaines to Albion, one would have driven down a dirt road, with transmission lines from the hydroelectric plant in Waterport on the left and telephone lines on the right. Homes on this road had access to electricity in the 1890's, long before the rest of Gaines. Ridge Road was paved with cement in the mid-1920's, and the curb at the base of the flower bed suggests the snapshot was taken after that development.
Dean Sprague, longtime Town Clerk for Gaines, and his wife Ethel, who lived in the house on the southeast corner of the intersection, maintained the flowerbed before the State eliminated the lesser used turn-off.
Adrienne Kirby,
Town Historian


This work is licensed under a Creative Commons Attribution-ShareAlike 4.0 International License.
https://www.townofgaines.org/wp-content/uploads/2019/05/GainesLogo-300x225.png
0
0
histedit
https://www.townofgaines.org/wp-content/uploads/2019/05/GainesLogo-300x225.png
histedit
2018-10-31 16:15:25
2018-11-01 09:21:25
A Different View of Rt. 279
These photographs of Teddy Roosevelt were discovered in the course of filing materials in the historian's office at Gaines Town Hall. No information is recorded on the backs of them. Accompanying notes indicate they were donated by Dan Hatch. Although Theodore Roosevelt never spoke in our township, folks from Gaines made sure to see him speak in Albion, which he did on three separate occasions. He spoke there on Oct. 26, 1898, Oct. 31, 1900, and Nov. 1, 1910. The question is, on which occasion were these photos taken? This is where history starts to look like detective work.
These snapshots were most likely taken with a Kodak Brownie camera. The Brownie was the first mass marketed camera for the general public, and was introduced in February 1900. Therefore, these photos were not taken of Roosevelt as candidate for New York State governor in 1898. Any photographs of that speech would have been taken by a professional photographer. These photos are either of Roosevelt as governor, or as former president. The photographs produced by the first Brownie camera were about 2″x2″. In 1901, the No. 2 Brownie was released, which produced snapshots about 2″x3″. Since the above photos are elongated and not square, they were probably taken during Roosevelt's 1910 visit.
Roosevelt spoke from a platform constructed in front of the County Clerk's Office. The top photo shows more of this building than the others. It also clearly shows the gable of what is now the Presbyterian church's dining room in the background. All of the photos show people gathered on the northern steps of the Clerk's Office.
Since the bottom third of these images show a sea of hats, it seems the photographer must have held his camera over his head to take pictures, hoping he would get some good shots. It also appears he jockeyed himself among the crowd in order to get closer, as can be gaged by the proximity to the platform and changing position of the hats in the foreground. It is also interesting to note the presence of feathered hats — even though women could not vote, they were there as well.
Subscribers to the Orleans American learned of Roosevelt's visit the week before with the following front page ad.
Roosevelt was campaigning for the Republican gubernatorial candidate, Henry Stimson. The Orleans American clearly supported the Republican cause. In the Nov. 3, 1910 edition, the headline reported that Col. Roosevelt was "Enthusiastically Received By the Thousands — Splendid and Telling Speeches." Two lengthy articles described his visit and work for the Republican party in New York. Counter-intuitively, the Orleans Republican rejoiced over the Democrat victory of John Dix as governor. In the Nov. 2, 1910 edition, buried in the middle of the paper, they described Roosevelt's visit in three sentences, concluding with, "Col. Roosevelt gave one of his characteristic talks."
Adrienne Kirby,
Town Historian


This work is licensed under a Creative Commons Attribution-ShareAlike 4.0 International License.
https://www.townofgaines.org/wp-content/uploads/2019/05/GainesLogo-300x225.png
0
0
histedit
https://www.townofgaines.org/wp-content/uploads/2019/05/GainesLogo-300x225.png
histedit
2018-09-04 11:47:50
2018-09-04 12:31:23
Going to see Colonel Roosevelt
A quote taken from The Home Bureau Creed, by Ruby Green Smith
---
One of the first
items I came across in the historian's office was a delightful scrapbook titled, "History of Eagle Harbor Home Bureau, 1953." Home Bureau was an organization for homemakers to learn skills that would improve their homes, and ultimately their communities. The scrapbook documents meetings held from the fall of 1952 to the spring of 1954. There are Cornell Extension Bulletins, sample projects, newspaper clippings, newsletters, and programs from various events. According to a newspaper clipping inside, each Home Bureau unit was encouraged to produce a "Historical Record Book" of their activities each year. Eagle Harbor was awarded third place for their record book. The two winning units' books were sent to the District meeting of the Federation of Home Bureaus at Hornell. A historical book was produced for all of Orleans County, which according to the article was "so complete and perfect that it received special mention from the judges."
While the Home Bureau Federation still exists in New York State, it had experienced a significant decline in Orleans County by the 1970's. Home Bureau was closely tied to Cornell Extension. Until the mid-1950's, a portion of the annual dues collected from each unit was sent to Cornell Extension. Individuals in a Home Bureau unit would learn a particular skill from a Home Demonstration Agent from Cornell, and then in turn would present that information at meetings that were held twice a month. Presentations generally focused on homemaking, but parenting and citizenship were addressed as well. Topics in 1953 included "Food for the Family Menu," "Advanced Decorative Stitchery," "Cupboard Arrangement," "Cooperation in the Family," and "Trends in Federal Government."
Gaines had six Home Bureau units in 1953: West Gaines, Gaines, Childs, East Gaines, Eagle Harbor and Gaines Basin. The Eagle Harbor unit had eighteen members. Meetings and activities took place either at members' homes, or at the Methodist church by the canal. Below is a photo of a Home Bureau hobby show held March 25, 1954 in the Methodist church dining room. It was noted that all families participated.
Because apple season will soon be here, and an article about Home Bureau would be more complete with a recipe, here is a dessert from a menu in the scrapbook for "Three Generations at One Table."
Apple Pudding – 6 Servings
2 eggs
3/4 cup sugar
2/3 cup sifted flour
1 teaspoon salt
1 teaspoon baking powder
3 cups diced apples
1/2 cup pecans, chopped
1 teaspoon vanilla
Beat together the eggs and sugar; add the flour, salt and baking powder.
Stir in the apples, pecans and vanilla.
Pour into a buttered baking dish or into 6 custard cups and bake at 350°F about 30 minutes. Serve warm or cold.
Adrienne Kirby,
Town Historian


This work is licensed under a Creative Commons Attribution-ShareAlike 4.0 International License.
https://www.townofgaines.org/wp-content/uploads/2019/05/GainesLogo-300x225.png
0
0
histedit
https://www.townofgaines.org/wp-content/uploads/2019/05/GainesLogo-300x225.png
histedit
2018-08-01 13:34:49
2019-06-14 21:56:47
"To believe one's community may become the best of communities," Home Bureau, 1953
The above photograph of an unidentified boy, most likely taken in Gaines, comes from a small photo album that belonged to Virginia Lattin Morrison. Below is a photo of Virginia found in that same album. She was a longtime resident of Gaines. Coincidentally, today was Virginia's birthday. She was born July 4, 1906.
In 1919, she turned 13. To celebrate her birthday that year, Virginia could have gone to the recently opened ice cream parlor above Mr. Spaulding's grocery in the rebuilt White's Hall. White's Hall, located on the southwest corner of 104 and 279, was a social hub. Prior to a devastating fire in 1910, it housed a grocery store, post office, grange hall and was Town Meeting headquarters, among other social activities. She would have been too young to attend the box party that evening with the Swarts Orchestra at the Grange Hall, which had moved across the street to what used to be Thurber's Hotel in 1915. Admission was $1.00, plus 10 cents war tax. A box party was essentially a dating game. Women would make a meal for two and put it in a cardboard box they had decorated. Then men would bid on boxes, not knowing what was inside or who the creator was with whom they would share the meal. Dances and social events like this were common fund raisers for the Grange.
Adrienne Kirby,
Town Historian


This work is licensed under a Creative Commons Attribution-ShareAlike 4.0 International License.
https://www.townofgaines.org/wp-content/uploads/2019/05/GainesLogo-300x225.png
0
0
histedit
https://www.townofgaines.org/wp-content/uploads/2019/05/GainesLogo-300x225.png
histedit
2018-07-04 01:00:41
2018-07-21 12:38:44
Happy Independence Day from Gaines!
Note: I am deeply grateful to Dee Robinson for her overall encouragement, her suggestion of this topic, and for her assistance in researching it.
The New York State Fair, held Oct. 1-4, 1867 in Buffalo, was a disappointment in some ways. "The grounds, unfortunately, presented a rough surface—appearing as if tread up by cattle in wet weather, and left to dry and harden in that condition. The buildings were poor, unattractive, and, in some instances, of not sufficient capacity for the use for which intended….The victualing department did not present its usual attractions."1 But for John A. Lafler of Gaines, it was a source of celebration. Along with at least two competitors, he demonstrated how his brick machine worked for the crowds at the fair, producing "crude" or unfired bricks. The New York State Fair report for 1868 noted Lafler "showed his iron clad brick machine, to which was awarded the first premium at the late fair in Buffalo, for making best quality of brick. We believe it still maintains its superiority." Lafler not only brought his machine to the New York State Fair multiple times, but he also displayed it at the Centennial Exposition in 1876, an international event which covered over 285 acres in Philadelphia.
The only information we have about John Lafler comes from census records, his patent, a handful of passing references, and church records. Lafler first appears in Gaines on the 1855 census, but was most likely here in 1852, since his three year old son was noted as being born in Orleans County. Lafler was a native of Ontario County. When he decided to settle here in the 1850's, Gaines had a larger population than Albion and at that point might have appeared to be a more vibrant community than our neighbor to the south. He and his family lived across the road from his brickyard which is now the Brick Pond on Rt. 98, a half mile south of Rt. 104.
From the information we do have, we can surmise he was a successful businessman. By the time he applied for the patent for his machine in 1863 at the age of 48, he had been in Gaines for at least ten years. He enlisted the support of John N. Proctor and Isaac Gere, both from prominent area families, to sign as witnesses to his application. His brickyard was in operation from the early 1850's to the early 1890's. His son Charles continued to run it for over ten years after his death in 1883. As a member of the Congregational Church in Gaines, he paid for the transom window above the double doors of the old church.
Lafler's brickmaking machine was essentially a barrel with a vertical shaft inside that had tilted blades protruding out of it. As noted in the patent, this shaft was "rotated by any convenient power," most likely horses or steam. The clay would be placed in the barrel from the top, and the rotating blades would simultaneously knead the clay, push it down into the molds, as well as scrape excess clay off the top of the molds. A spring-loaded "clod-crusher" would compress the clay in the molds from below. It is unclear from Lafler's patent exactly how many bricks could simultaneously be pressed by his machine. However, one of his competitors paid for a full-page advertisement in the 1866 edition of the New York State Agricultural Society's Abstract. It claimed that the machine "will make from 2,000 to 3,000 brick per hour, with seven or eight hands and a pair of horses." A look at the 1875 census suggests Lafler's machine might have required a similar amount of manpower. In that year, twelve men were listed as laborers in his household, half of whom were immigrants from Germany, Ireland, Sweden, Belgium and England. It's reasonable to suppose that if eight men were kept busy running the machine, another four might be needed to dig the clay to feed it. If Lafler's machine had a comparable output to his competitor's, then the amount of bricks needed to build a small brick house about the size of the one next to the Cobblestone Church in Childs could be pressed in three hours or so.
Lafler's brickyard was not the first in Gaines. William J. Babbit established the first brickyard around 1820, on the southwest corner of the intersection of Ridge Road and Crandall Road. It is also believed there was an early brickyard on the southeast corner of the intersection at Ridge Road and Rt. 279. Before the advent of machines like Lafler's, brickmaking in the early 19th century was a handmade, straight forward affair. Clay was pressed into a single brick mold, and then a tool was used to scrape off the excess clay. The mold was then tipped over onto a small pallet, and hopefully, the brick would come out of the mold intact. If some clay remained inside the mold, the brick would have to be repressed – the mold placed over the brick once more, tamped, and tipped out again. Perhaps this is the problem Lafler claimed his invention overcame in the ads he placed in a few 1869 issues of Scientific American.
Another improvement of machines like Lafler's over the ages-old method of hand pressing bricks is that they would produce more uniform, more compact, harder bricks. Prior to factories, there was no way each handmade mold would each be exactly the same. Repressing would also create variation in bricks. Using a team of horses or steam power, it is easy to understand how Lafler's spring-loaded machine would be able to exert more pressure on the clay than even the burliest of brickmakers.
It is probable that we see Lafler's product in many local brick houses, but we don't have documentation. There is strong reason to believe that the First Baptist Church in Albion was constructed with Lafler's bricks in 1858. What is now the rectory for Holy Family Parish may have also been built with his bricks as well. There is proof beyond a doubt that his bricks were used in the platform in front of the Cobblestone Church in Childs, for several have his name stamped into them.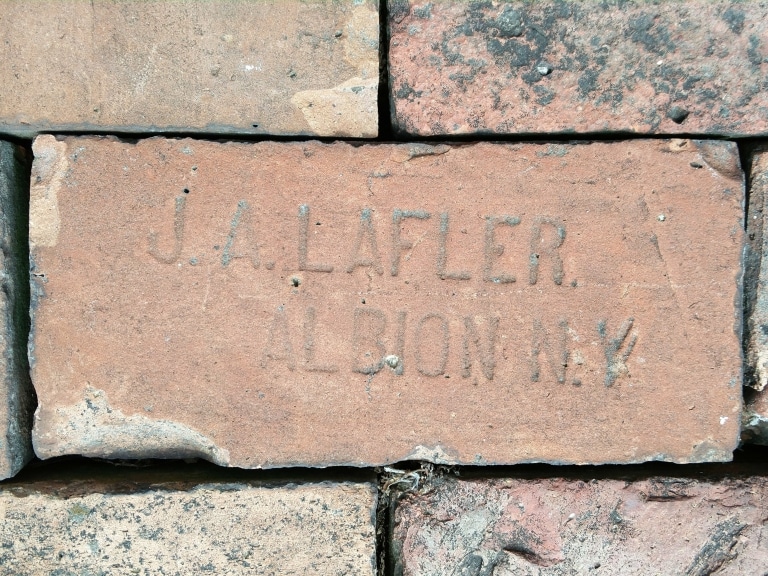 Adrienne Kirby,
Town Historian
1The author adds, "[These faults] detracted from the visitors' full enjoyment of pleasure, and were the source of petulant comment from some….We simply record the facts in making up a true account of the exhibition."

This work is licensed under a Creative Commons Attribution-ShareAlike 4.0 International License.
https://www.townofgaines.org/wp-content/uploads/2019/05/GainesLogo-300x225.png
0
0
histedit
https://www.townofgaines.org/wp-content/uploads/2019/05/GainesLogo-300x225.png
histedit
2018-06-14 17:30:31
2018-07-21 12:39:51
Building a Better Brick
Nestled in the heart of Orleans County, the Town of Gaines has largely retained its agricultural character over the course of its 200 year history. In the years after the first settlers arrived in 1809, life was hard. Sometimes crops failed, and if they were abundant, there were few markets close by to sell to. Despite these challenges, the communities of Gaines Village, East Gaines, West Gaines and Proctor's Corners (now Childs), were established on Ridge Road before the Erie Canal came through in 1825. Once the canal was completed, Gaines Basin and Eagle Harbor grew as a result of the commercial traffic. With a means of selling their crops to markets across the state at higher prices, Gaines became a little less rustic.
Confident that their town would become the county seat for the newly formed Orleans County in 1824, the citizens of Gaines were eager to prove its worth. Prior to the incorporation of the county, Gaines could boast its own newspaper, and over twenty businesses, including several factories. In an effort to make itself a more likely location for county seat, a Masonic lodge was established and a meeting house built. Although Gaines lost its bid to become the political center of the county, the plans made for a court house were refurbished to become an institution of learning, the Gaines Academy. Until 1850, the population and businesses of Gaines continued to grow.
Like many rural communities in the late 19th and early 20th centuries, social life in Gaines revolved around one of the six churches, the Grange, one of the two temperance groups or at a tavern, depending on one's sensibilities. The latest news could always be discussed at one of the general stores. There were fires that devastated several of these meeting places, and there were community efforts to rebuild them.
Despite the changes that have occurred over two hundred years, Gaines has always had farmers. In the early days, farming was a necessity to survival. Later, farmers sent their commodity crops of wheat and beans along the canal to distant markets. In the 20th century, farmers grew tomatoes for the Hunts factory in Albion. Orchards have long been a part of the landscape, from the days when Gaines boasted the largest apple orchard in the world, to today where they can be found spread throughout the area.
Town Historian,
Adrienne Kirby
https://www.townofgaines.org/wp-content/uploads/2019/05/GainesLogo-300x225.png
0
0
Joe D'Amore
https://www.townofgaines.org/wp-content/uploads/2019/05/GainesLogo-300x225.png
Joe D'Amore
2018-06-01 14:50:10
2018-06-01 15:04:45
A Brief History of the Town of Gaines