Hours: Tuesday – Thursday 9:30 am to 3:00 pm
(Fines collected during that time.)
Phone: 585-589-4592 ext. 11
Fax: 585-589-1768
Town Justices are locally elected officials who serve four year terms. Town courts are local courts with jurisdiction over all criminal and traffic matters arising within their borders. They have jurisdiction over civil matters up to $3,000. Twice each year, Justices are required to attend Advanced Judicial Training and pass an exam.
Arraignments & Landlord Tenant Matters:
* As Scheduled
Criminal & Traffic Court Sessions (With District Attorney Present):
* Second Wednesday of Every Month at 2:00 pm
Small Claims:
* As Scheduled
Jury Trials:
* As Scheduled
Vehicle and Traffic Disposition Sessions (With Assistant Attorney Present):
* Third Wednesday of Every Month at 2:00 pm
Fines are collected through Gov Pay Now
Town and Village Courts are… 
"the courts closest to the people."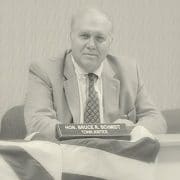 Bruce Schmidt
Justice
Town of Gaines